Legends of Hollywood Series
Legends of Hollywood Series
On June 1, 1995, the USPS issued the first stamp in its long-running Legends of Hollywood Series
Two years earlier, the USPS issued the most popular US stamp of all time honoring Elvis Presley.  The success of that stamp led postal officials to search for other charismatic stars that could have similar appeal to stamp collectors and fans alike.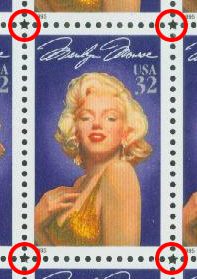 They chose Marilyn Monroe and would launch a large campaign to promote the stamp saying, "She's as gorgeous on a tiny stamp as she was on the giant screen."  They contacted nine different artists to create possible portraits for the stamp, with Michael Deas wowing the committee with his painting that was selected for the stamp.  The stamp was also notable as the first US stamp with a trademark designation (™) in its design, as her estate required this. 
The stamp was issued in June 1, 1995, what would have been Monroe's 69th birthday.  The USPS printed 400 million stamps – the largest US commemorative stamp printing up to that time after the Elvis stamp (517 million). 
The USPS also offered a large variety of other products – uncut press sheets, panes signed by the stamp designer, a Stamp Folio, a commemorative panel, and a first-day program with a pop-up model of Monroe.  The stamp also had nine different tagging varieties and star-shaped perforations in each corner.  By the end of the year, the USPS announced that the Marilyn stamp was the #1 selling single postage stamp and that over 46 million had been bought and retained, rather than used on mail. 
The Legends of Hollywood Series continued in 1996 with a stamp honoring James Dean.   That stamp and future issues followed the same format as the Marilyn stamp, with a painting of each star and their signature on the stamp as well as selvage art and a brief write-up about their career.  While the Marilyn stamp sheet used an enlarged version of the stamp image, the rest of the sheets in the series would use different portraits on the stamp and in the selvage.  Over the years, several of the stamps were issued on the stars' birthday, and often in Los Angeles or other cities relevant to each star.
The series continued until 2012, when it took a two-year hiatus.  The USPS explained that it was skipped in 2012 because the Great Film Directors issue honored similar subjects.  No Legends of Hollywood stamp was issued in 2013 either, as that year the USPS issued its set of Harry Potter stamps.  But the series resumed in 2014 with the Charlton Heston stamp.  The last stamp was issued in 2016, honoring Shirley Temple. 
Click here to view and order all the individual Legends of Hollywood stamps you need.  And click here for lots more stamps honoring movie stars and entertainers.
Click here to see what else happened on This Day in History.
Did you like this article? Click here to rate: