Launch of Space Shuttle Atlantis 
Launch of Space Shuttle Atlantis 
On October 3, 1985, the Space Shuttle Atlantis made its maiden flight.
Atlantis is America's fourth operational space shuttle. The contract to build the shuttle was awarded on January 29, 1979, to Rockwell International. Construction on the shuttle began the following year, on March 3. Following the tradition of naming space shuttles after historic ships, Atlantis was named after a two-masted boat that had been the main research vessel of the Woods Hole Oceanographic Institute in Massachusetts between 1930 and 1966.
Because three other shuttles had been built before Atlantis, its creators were able to apply that knowledge to complete its construction in about half the time.   Once it was completed, Atlantis weighed about 151,315 pounds, which was about 3.5 tons lighter than Columbia.
Atlantis was delivered to the Kennedy Space Center in Florida on April 9, 1985, where it underwent seven months of preparation for its maiden voyage. Atlantis was finally ready to make its way to space that fall. On October 3, 1985, Space Shuttle Atlantis began its first mission, STS-51J. Part of the mission included delivering a communications satellite for the Department of Justice. The crew also did a number of studies exploring "space motion sickness, cardiovascular deconditioning, muscle loss, changes in coordination, balance strategies, and changes in the body's biochemistry."
Atlantis' first mission was a success and it returned to earth on October 7. Less than two months later, Atlantis made its second mission, which was also NASA's second nighttime launch of a shuttle. However, the space shuttle Challenger disaster early the next year grounded Atlantis and all other shuttles for an extended period.
Atlantis finally returned to space nearly three years after its second mission, in December 1988. The following year, Atlantis became the first shuttle to launch an interplanetary probe when it launched the Magellan probe to Venus. That same year it also launched the Galileo probe to Jupiter.
Atlantis made history on June 29, 1995, when it docked with the Russian Mir space station. The STS-71 mission marked the first time U.S. and Russian spacecraft linked up in orbit since the Apollo-Soyuz test project 20 years before. The mission was also the 100th U.S. human space flight.
With the Atlantis and Mir linked, American Robert L. Gibson and Russian Vladimir Dezhurov co-commanded the largest spacecraft ever assembled – a mass of nearly 225 tons – for five days of joint operations and scientific research. At the end of the docking, the two vehicles undocked in what the crew dubbed a "cosmic ballet" complete with photos taken by the Russian cosmonauts aboard the Soyuz spacecraft.
Atlantis went on to deliver a number of important parts to the International Space Station, including the Destiny Module, which served as the main operating facility for U.S. research payloads. They also delivered the Quest Joint Airlock, truss segments, solar arrays, and the Columbus laboratory. In 2001, Atlantis crewmembers performed NASA's 100th extra vehicular space activity.
Atlantis flew its longest mission over 14 days in 2007. During that mission they delivered items to the Space Station and performed four spacewalks. In 2009, Atlantis brought a seven-member crew on a service mission to the Hubble Telescope.
Atlantis was supposed to be pulled from service in 2008 for scheduled repairs, but changes to the shuttle program prevented that. Instead it was decided Atlantis would provide parts for Discovery and Endeavour.   However, the shuttle was kept operational longer than intended. Atlantis' last flight was supposed to be STS-132 in May 2010, but it was ultimately selected for the final space shuttle mission, STS-135, in July 2011.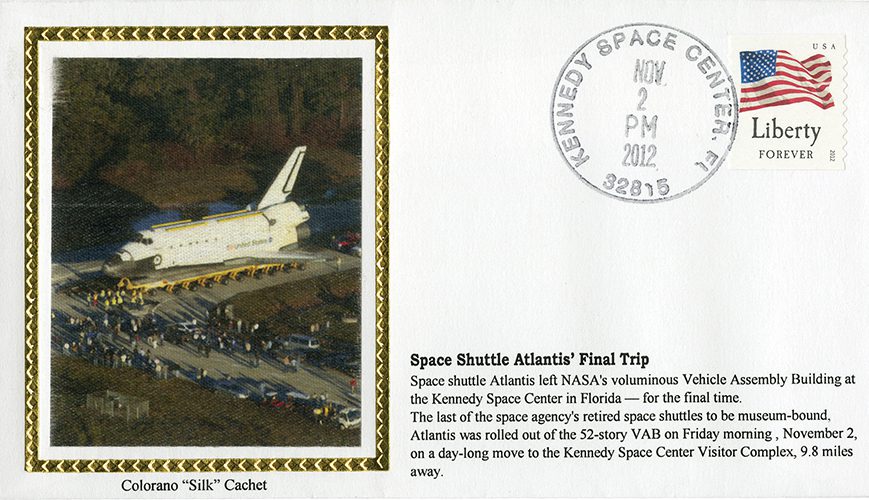 After it's decommissioning, Atlantis was sent to the Kennedy Space Center Visitor Complex. During its 26 years of service, Atlantis performed 33 missions, carried 207 crewmembers, and spent 306 days in space. It orbited the Earth 4,848 times and traveled a total distance of over 125 million miles. Atlantis deployed a total of 14 satellites, docked with Mir 7 times and the International Space Station 12 times.
Click here to see a video tribute to Atlantis.
Click here to see what else Happened on This Day in History.
Did you like this article? Click here to rate: