Birth of Romare Bearden
Artist Romare Bearden was born September 2, 1911, in Charlotte, North Carolina. 
Bearden's family moved to New York City's Harlem to escape the restrictive Jim Crow laws in the South.  Bearden's mother was a newspaper editor, and hosted well-known artists like jazz musician Duke Ellington and poet Langston Hughes.  This early exposure led to Bearden's lifelong interest in jazz and literature.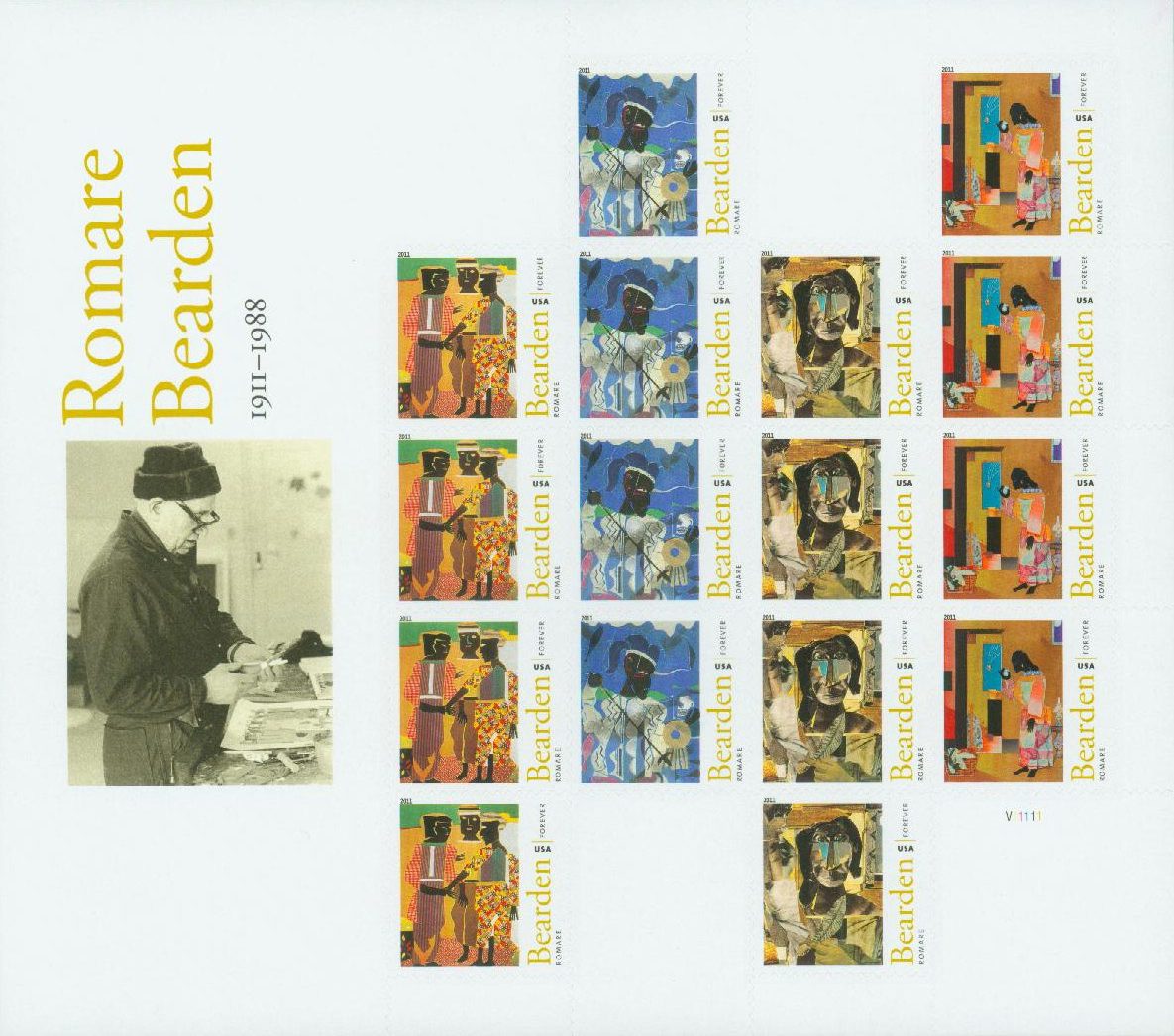 As a child, Bearden would return to the South to visit relatives.  Memories of the African-American rural life he experienced during these trips became the subject of many of his later works. 
After graduating from high school, Bearden went to Lincoln University.  He then transferred to Boston University, where served as the art director of the student magazine.  He eventually graduated with a degree in education and science from New York University.   However, the art classes he took throughout his higher education changed the course of his life.  After graduating, he studied at the Art Students League and made money as a political cartoonist for African-American newspapers.
After serving in the US Army during World War II, Bearden traveled to France to study.  While in Europe, he studied the works of great painters like Picasso and Matisse and Dutch masters such as Rembrandt.  He was also influenced by Chinese landscapes and African and Mexican art.  Bearden even expressed his creativity through music, co-writing the hit song "Sea Breeze," which was recorded by Billy Eckstine and Dizzy Gillespie.  Over the years, Bearden's oil paintings grew increasingly abstract.  He soon found a new medium that he would explore for the rest of his career. 
Bearden helped found the Spiral Group during the 1960s, which served as both an outlet for his talent and increased his social awareness.  A gathering of black artists, the group used art to make their voices heard in the struggle for Civil Rights.  In 1963, Bearden recommended the members make a collage together.  That was his first attempt with the technique, a form he favored for the rest of his life and used to show the richness of black culture.
Romare Bearden once said, "What I've attempted to do is establish a world through art in which the validity of my Negro experience could live and make its own logic."  To make that goal a reality, Bearden shared his experiences through collage.  He began gluing bits of magazine clippings and other materials to a board to create an image.  He altered these images with sandpaper, bleach, pencils, and paint.  Bearden used materials that seemed to be unrelated and put them together to form masterpieces.  He also used the Photostat process to blow up images for his collages and incorporated silk screens, colored paper, and pieces of billboards.
Bearden's collages earned him significant attention, getting a solo exhibition in Washington, DC in 1964.  Five years later, the Museum of Modern Art held a retrospective exhibition of his work.  Bearden continued to work until his death on March 12, 1988.  One obituary described him as "one of America's pre-eminent artists" and "the nation's foremost collagist."  Two years after his death, the Romare Bearden Foundation was founded to preserve his legacy.  It provides grants that support young children and artists.  In Bearden's birthplace of Charlotte, there is a street and park named for him, and one of his mosaics hangs in the library. 
Click here to view some of Bearden's artwork on his foundation's website.
Click here to see what else happened on This Day in History.
Did you like this article? Click here to rate: