Marshall Islands and Micronesia Joint Issue
Marshall Islands and Micronesia Joint Issue
On September 28, 1990, the USPS released two joint-issue stamps commemorating the 1986 compact of free association with Micronesia and the Marshall Islands.
During World War II, Japan established a powerful empire based in the Pacific Ocean. After the war, many small island groups were left without a government, and did not have the resources to rule themselves. In 1947, the United Nations established the Trust Territory of the Pacific Islands. Administered by the U.S. government, the territory consisted of the Marshall Islands, the Northern Mariana Islands (except Guam), the Federated States of Micronesia, and the Palau Islands.
In the 1980s, the U.S. and the Trust Territory developed the Compact of Free Association (COFA). This compact was an agreement in which the U.S. government agreed to help each of the included nations to develop their own self-governments and become independent as they saw fit. However, the U.S. would provide access to federal emergency management agencies as well as the National Weather Service, USPS, and the Federal Communications Commission, among others. The compact was approved by Micronesia and the Marshall Islands in 1986. It was several years before Palau was able to approve the compact and the Northern Marianas instead chose to become a U.S. commonwealth.
The U.S. joint issue honoring this compact was originally intended to include four stamps honoring each of the countries involved, but it was eventually narrowed down to two honoring the Marshall Islands and Micronesia. In addition to two U.S. stamps, Micronesia would issue a strip of three and the Marshall Islands a single stamp. Two artists designed all six stamps, which were in turn printed by two different processes by three different printers.
All six stamps feature similar designs – a historic ship from one or more of the countries plus a flag. The Micronesia issue included a stamp honoring the U.S. with the American flag and the USS Constitution. The Marshall Islands stamp also includes a stick chart, which is a device used to teach people how to navigate by reading wave patterns.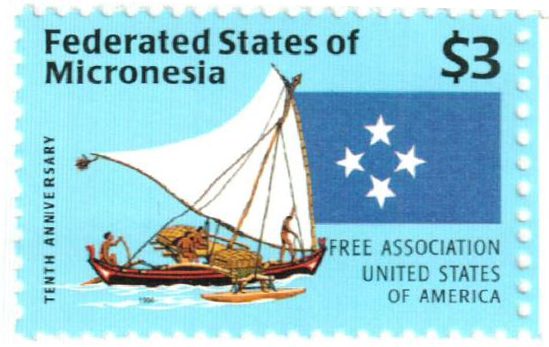 The first day ceremony for all six stamps was held at the Dean Acheson Auditorium in the Department of State in Washington, D.C., on September 28, 1990. Ceremonies were also held at Palikir, Pohnpei, Micronesia, and Majuro in the Marshall Islands.
Click here to read the text of the compact.
Click here to see what else happened on This Day in History.
Did you like this article? Click here to rate: