Red Baron's Final Victory
The Red Baron's Final Victory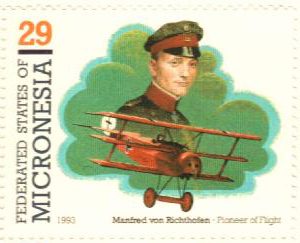 On April 20, 1918, the Red Baron shot down his 80th plane, a record for World War I.
The Red Baron was born Manfred Albrecht Freiherr von Richthofen into an aristocratic Prussian family in present-day Wrocław, Poland. He was enrolled in a military school at age 11, commissioned into the 1st Uhlan Regiment of Kaiser Wilhelm II, and promoted to lieutenant in 1912.
Richthofen began World War I as a cavalry reconnaissance officer on both the Eastern and Western Fronts. But once the fighting slowed with the advent of trench warfare, Richthofen was bored and wanted a post with excitement, so he transferred to the German Air Force in May 1915. He was one of the first members of its elite fighter pilot units. A fast learner, Richthofen embarked on his first solo flight after just 24 hours of flight training in October 1915. On September 17, 1916, Richthofen scored his first confirmed aerial victory over Cambrai, France.
In 1917, Richthofen began flying his famous red Fokker Dr.I triplane. That same year he was made commander of the "Flying Circus," a unit of Germany's top fighter pilots that could quickly reach any part of the Western Front where they would be needed. In July 1917, Richthofen was struck in the head with a bullet while flying. He managed to recover and land his plane and returned to service in a matter of weeks.
Richthofen then took a few weeks off to rest, during which time he wrote an autobiography. In it, he shed some light on his experience: "I am in wretched spirits after every aerial combat. I believe that [the war] is not as the people at home imagine it, with a hurrah and a roar; it is very serious, very grim."
By early 1918, Richthofen was such an important figure to the German public that many feared his death might be a major blow to the German people. But he couldn't be convinced to take a ground job. On April 20, 1918, Richthofen shot down his 79th and 80th planes, the most of any pilot in the war.
Then about 11:00 the next morning, Richthofen's plane was shot down over the British line and he died from his wounds. The British troops buried him with full military honors there. His body was later exhumed and buried with his family in Wiesbaden. Richthofen was the war's most successful and famous ace on both sides.
Click here to read excerpts from Richthofen's autobiography.
Click here to see what else happened on This Day in History.
Did you like this article? Click here to rate:
SaveSave