Formation of Tuskegee Airmen
Formation of Tuskegee Airmen
On March 19, 1941, the War Department ordered the creation of the the 99th Pursuit Squadron, better known as the Tuskegee Airmen.
The Tuskegee Normal School (later Tuskegee Institute) was founded on July 4, 1881. Its founders were Lewis Adams, a former slave, and George W. Campbell, a former slaveholder, who both believed African American education was of the utmost importance. They selected 25-year-old Booker T. Washington to serve as their first president. Under Washington's leadership, the school went from using a rundown church to an institute spanning 2,300 acres by the early 20th century.
In 1940, there were only 124 African-American pilots in the U.S. Many had participated in the Civilian Pilot Training Program through the Tuskegee Institute, taught by Charles Alfred "Chief" Anderson. But none of them were allowed to fly for the military. The War Department didn't want to accept African American pilots, so it set a high bar of flight experience and education that it didn't expect any could meet. But they were wrong, and the U.S. Army Air Corps received a large number of applications from African American men who met their strict requirements.
Ultimately the War Department changed their mind and, on March 19, 1941, ordered the creation of America's first black military pilot squadron. A few days later, the 99th Flying Squadron was established. The first graduates never saw combat, but as the war progressed later trainees served as escorts for heavy bombers and on bombing raids. In June 1941, they became the 99th Fighter Squadron, complete with ground crew.
By 1942, over 3,000 personnel were training at Tuskegee under the command of Captain Benjamin O. Davis, Jr. In April 1943, the squadron shipped out for its first assignment in North Africa. The 99th received a Distinguished Unit Citation for their part in the assault.
The next year, there were enough graduates to form the all-black 332nd Fighter Group, made up of four squadrons. They escorted bombing raids and dive-bombed and strafed enemy targets.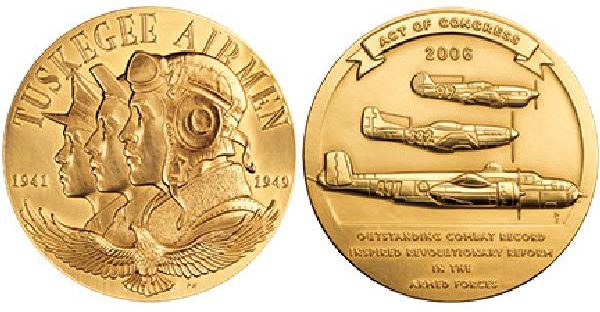 By the end of the war, 992 pilots had trained at Tuskegee. Of those, 355 were deployed overseas and 84 lost their lives. These men flew 1,578 combat missions, 179 bomber escort missions, and destroyed over 1,300 enemy aircraft, rail cars, trucks, and other vehicles. They were awarded several Silver Stars, 150 Flying Crosses, 14 Bronze Stars, and 744 Air Medals.
The Tuskegee Airmen proved to be some of the best pilots in the U.S. Army Air Corps. After the war, segregation ended in the military and many joined the newly formed Air Force. In 2007, the group was awarded a Congressional Gold Medal for the part they played in the war and overcoming prejudice.
Click the images to add this history to your collection.
Did you like this article? Click here to rate: