New Jersey Becomes 3rd State 
New Jersey Becomes 3rd State 
On December 18, 1787, New Jersey became the third state to ratify the Constitution and join the Union.
New Jersey's first inhabitants were Native Americans who belonged to the Delaware tribe of the Algonquian family. Experts estimate that about 8,000 Indians lived in the region when European settlers first arrived. In 1524, Giovanni da Verrazano, an Italian navigator serving France, became the first European to explore the New Jersey coast.
In 1630, the Dutch formed an outpost in Pavonia (now part of Jersey City). However, Indian attacks prevented the establishment of a permanent settlement until 1660, when the Dutch built the fortified town of Bergen (also part of modern-day Jersey City). Bergen was New Jersey's first permanent European settlement.
In 1664, English forces won control over New Jersey. King Charles II gave New Jersey to his brother, James, the Duke of York, who in turn gave it to two of his friends, Lord John Berkeley and Sir George Carteret. In fact, James named the area New Jersey after Carteret, who had served as the governor of Jersey, an island in the English Channel.
Berkeley and Carteret attracted settlers to New Jersey by selling land at low prices and promising political and religious freedom. In 1674, a group of Quakers led by Edward Byllynge purchased Berkeley's share of New Jersey. They divided this land into two sections, West Jersey and East Jersey. West Jersey became the first Quaker colony in America. Carteret owned his portion of New Jersey until his death in 1680, when it was purchased by another group of Quakers called the Twenty-Four Proprietors. In 1702, England formed New Jersey into a single royal colony.
As in most of England's American colonies, the people of New Jersey were divided on the issue of independence or loyalty to Britain. In 1774, a group of colonists dressed as Indians burned a supply of British tea stored on a ship in Greenwich. The Greenwich Tea Burning, as it came to be known, was a protest against British taxation policies, similar to the much more famous Boston Tea Party.
When the Revolutionary War began in Massachusetts in 1775, large numbers of New Jersey colonists joined on both sides. The colony's location between the cities of New York and Philadelphia made it a major battleground. Nearly one hundred military engagements were fought on New Jersey soil. The most important of these were the battles of Trenton in 1776, Princeton in 1777, and Monmouth in 1778. Before the Battle of Trenton, General George Washington made his legendary crossing of the Delaware River on Christmas night.
During the Revolution, two New Jersey cities served as the temporary national capital. Princeton was the national capital from June 30, 1783, until November 4, 1783, and Trenton from November 1, 1784, until December 24, 1784.
On July 2, 1776, New Jersey declared its independence from Great Britain and adopted its first constitution. It ratified the Articles of Confederation (the forerunner to the US Constitution) on November 26, 1778. On December 18, 1787, New Jersey ratified the United States Constitution, and became the third state to join the Union.
New Jersey was one of the first great industrial states in America. The city of Paterson was known as a center for textile production as early as 1792. Paterson eventually became known for production of locomotives and silk. Trenton specialized in clay products, iron, and steel. During the 1800s, the cities of Camden, Elizabeth, Jersey City, Newark, and Passaic all became major industrial centers. Huge improvements in transportation accompanied this industrial growth. Railroads and canals were built to connect New Jersey with markets like Philadelphia and New York City.
A booming US economy attracted many European immigrants during the first half of the 1800s. At first, most came from Germany and Ireland, but more and more started coming from Italy and Eastern Europe. By 1910, more than half of the state's population was born outside of the United States. Between 1900 and 1930, New Jersey's population more than doubled. During the 1960s, many cities faced the problem of spreading slums. In July of 1967, riots erupted in minority neighborhoods in several cities. The worst occurred in Newark, where 26 people were killed and more than 1,000 were injured.
Since World War II, New Jersey has continued its rapid modernization, quickly expanding its electronics, chemical, pharmaceutical, and food-processing industries. It also remains a major rail center, despite the decline in railroad travel nationally. One of the nation's busiest highways, the New Jersey Turnpike, which links Philadelphia and New York City, opened in 1952. As the population has expanded, extensive home construction has sprung up in rural areas.
In an effort to raise tax dollars, New Jersey legalized gambling in Atlantic City in 1976. The first casino opened in 1978. Also in 1978, New Jersey opened the first state-level energy department in the US – the Department of Energy of the State of New Jersey. As the 20th century drew to a close, the biggest problems facing New Jersey were the high cost of government and the disposal of toxic waste.
Click here to see what else happened on This Day in History.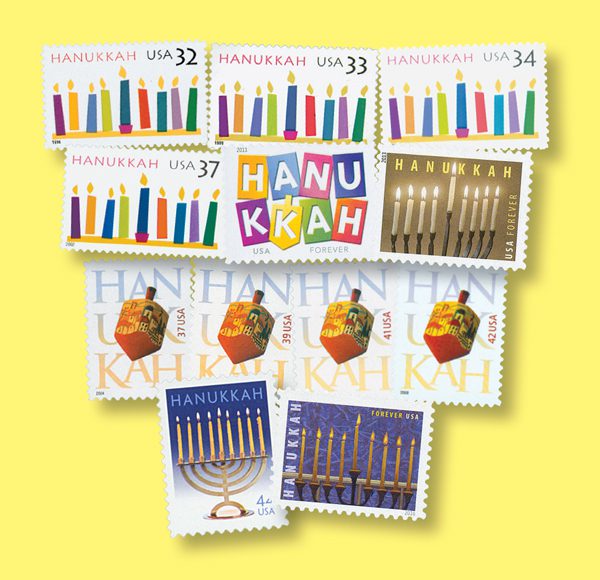 Click here for more Christmas stamps.
Did you like this article? Click here to rate: