Battle to Recapture Corregidor
Battle to Recapture Corregidor
On February 16, 1945, the first of 7,000 American troops arrived at Corregidor, ready to retake the important Pacific outpost.
To prevent its complete destruction, Manila was declared an open city when World War II broke out.  The Japanese began their invasion of the Philippines on December 8, 1941, ten hours after the Pearl Harbor attack.  They destroyed every US aircraft on the ground, forcing the American naval fleet to withdraw.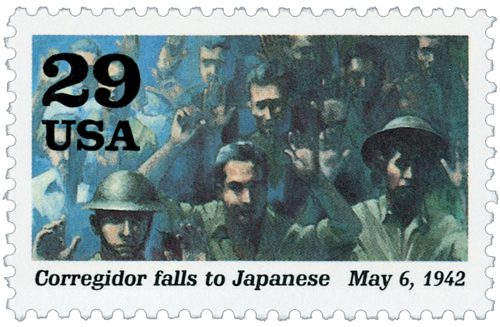 Corregidor itself came under siege on December 29, 1941.  After a two-hour bombardment, the Japanese destroyed or damaged the hospital, barracks, fuel depot, and officers club.  The attacks on Corregidor continued for months.  On March 11, 1942, General Douglas MacArthur escaped Corregidor but boldly stated, "I will return," promising to come back and save the men he left behind.
Approximately 76,000 sick and starving American and Filipino defenders left in the Philippines surrendered on Bataan one month later.  They were forced on a grueling march to Bataan, during which seven to ten thousand died or were murdered by the Japanese forces.
American leaders saw Corregidor's recapture as an important step in winning the war.  So General MacArthur returned to the Philippines on October 20, 1944, with 174,000 men and 700 vessels.
The Battle for the recapture of Corregidor started on January 23rd with an aerial bombing to lessen the Japanese defenses.  The aerial bombing lasted for seven days, during which time the US Navy also bombarded the shore.
Then on February 16th, General MacArthur's dangerous plan to surprise the Japanese went into effect.  The island was hazardous for paratroopers to land on – especially on the large hill, which was why the Japanese didn't expect them.  This was the vantage point they needed to control to win. At 8:30 that morning, 1,000 paratroopers started to drop from the sky toward the hill named "topside."  They would help defeat the Japanese by taking away their lookout.  Then the Japanese wouldn't have the advantage of seeing and controlling sea bomb attacks.
Though they caught their enemy by surprise, the Japanese quickly regrouped and put up a stiff defense.  Around the same time, American infantry waded ashore to establish a beachhead.  They spent the next eight days holding off banzai chargers, mortar, and suicide squad attacks.  At one point, a group of Japanese troops were trapped in a mountain and chose to blow it and themselves up, rather than surrender.  Similar explosions occurred around the island for several days.
The last major conflict was securing Malinta Hill, which took a week of fierce and courageous battle.  In the end, the Japanese could no longer form organized attacks and the US dominated against the small pockets of resistance left.
Corregidor was declared secure on February 26.  The island's harbor was ready for Allied shipping by March 1.
Click here to see what else happened on This Day in History.
Did you like this article? Click here to rate: