Happy Birthday John Philip Sousa 
Happy Birthday John Philip Sousa 
American composer and conductor John Philip Sousa was born on November 6, 1854, in Washington, DC.
The third of ten children, Sousa began playing music at the age of six when he took lessons on the violin. His instructors quickly found that he had absolute or perfect pitch – the ability to identify or recreate a note without a reference tone. By the time he was a teenager, Sousa learned to sing and to play piano, flute, cornet, baritone horn, trombone, and alto horn.
When Sousa was 13, his father, a trombonist in the Marine Band, enlisted him in the Marine Corps to prevent him from joining a circus band. Sousa joined the Marine Band and remained with it until he was 20. In his time outside of the Marine Band, Sousa also studied music theory and composition with George Felix Benkert.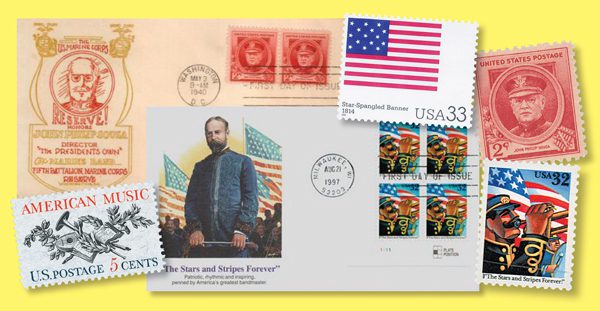 After leaving the Marines, Sousa spent some time in Washington, DC, conducting and playing in bands before moving to Philadelphia in 1876. While there he found work as a composer, arranger, and proofreader for publishing houses. He also toured with the musical Our Flirtation, for which he wrote some of the music.
Then in 1880, Sousa was offered the leadership of the Marine Band and he accepted. It was his first time conducting a military band, and he approached it differently than his predecessors had. He made changes to the way the band played and ran very strict rehearsals. Soon, the Marine Band was the country's most respected military band, and people flocked to their performances. Sousa wrote "The Gladiator" in 1886, which brought him his first acclaim as a composer. Two years later he wrote "Semper Fidelis" for the Marines, and it went on to become their official march.
In 1889, Sousa composed the "Washington Post" march as part of a promotion for an essay contest put on by the newspaper. The march was adapted and popularized with the dance called the two-step. The song then became the most popular tune in America and Europe. It was at this time that Sousa earned the nickname "March King."
After producing some of the country's first commercial recordings, Sousa took the Marine Band on their first national tour in 1891 (a tradition that continues to this day). Sousa led the "Presidents Own" band under five presidents with the Marine Band for 12 years. Then in 1892 he was encouraged to start his own civilian band, which would make him even more popular with the public. Between 1892 and 1931, he would perform 15,623 concerts with the Sousa Band in the U.S. and around the globe. It was during this time that he wrote "The Liberty Bell" which was later used for Monty Python's Flying Circus and his most famous song, "Stars and Stripes Forever," which is America's national march.
In 1893, Sousa worked with a Philadelphia instrument maker to develop a new instrument, the marching brass bass, or sousaphone. Sousa returned to the military in 1917 after the U.S. joined World War I. He was commissioned a lieutenant in the U.S. Naval Reserve and led the Navy Band. He later received the World War I Victory medal for his service.
Sousa died on March 6, 1932, in Reading, Pennsylvania. Over the course of his career, he wrote 137 marches, 15 operettas, 5 overtures, 11 suites, 24 dances, 28 fantasies, and 322 arrangements of nineteenth-century western European symphonic works.
Click here to listen to some of Sousa's marches.
Click here to see what else happened on This Day in History.
Did you like this article? Click here to rate: